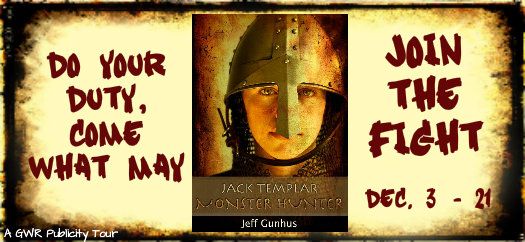 Jeff Gunhus is wrapping up a 3 week tour with a Twitter Party on Friday, December 21

from 6 pm to 8 pm EST

Use the

h

ashtag #JackTemplar

to join the party.
Missed the tour? Check out the entire tour schedule for great reviews, guest posts, and interviews! You can see my post here! It's a character interview with one of Jack's best friends, Will. AND...there is a special giveway on that post just for Alli's World readers! Cause y'all are the best!
As a special gift right before the holidays Jack Templar Monster Hunter is FREE on Amazon December 20 & 21
There's still time to enter the Tour Swag Giveaway which includes a $25 Amazon Gift Card
a Rafflecopter giveaway
The Jack Templar Tour is a paid GWR Publicity promotional tour.